Falcon The World's Trusted Safe
For over three decades, Falcon Safe has been providing high-quality products and safety boxes designed to protect your company's vital assets. We began making the Falcon brand safe box, vaults and fireproof cabinet in 1982, and since then, through technology revolution and market demands, with our continuous development, we expand range of safes product like strong room door construction, emergency door, modular vault door, safe deposit locker, jewellery safe, home safe, hotel safe, anti-crowbar door, steel door, smart safe and so on.
Eventually, Falcon Safe Malaysia has emerged from a manufacturer of safety box, vault and fireproof cabinets into a broad-based security and asset protection company with multitude of product and service offerings.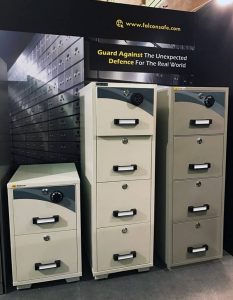 Every product we make – for important record & valuable protection, secure cash-handling is manufactured or created using the most innovative, advanced product development technology available.
Due to our vast experience as a safety box supplier and manufacturer in the security and protection industry, we are able to offer the best price for our products. We have gained testimony towards our product quality and price competitiveness, and are currently the best solution for bank institutions, jewellery, fire, military, F & B retails, and government agencies.
Falcon Safe has now grown into a well-established Malaysian as well as International brand. We are leading exporter to countries such as Asia, Australia, Middle East, European, USA, and China.
Get in touch with Falcon Safe Malaysia today for all of your security and asset protection needs. We promise to deliver the best service, safe box prices, and other top-quality safe products.
Premium Partners - Insurance Agencies

Our mission is to provide peace of mind through security integration.

We are here to exceed client's expectations through integrity and professionalism.

Our quality-driven team is committed to establishing long-term business relationships by providing exceptional service and comprehensive security solutions.
Asia Success Award 2010/2011
Super Golden Product
The Best Manufacturer of Safety Box Products
SME Recognition Award 2013
Golden Eagle Award 2014/2015
The Malaysia 100 Excellent Enterprise